Natural ear against mites GREEN SLEEP-Latex Wool-Bamboo-Gel-coated Cotton Natural Fiber SALES Montreal Laval Quebec
The Green Sleep Natural Latex or Wool PILLOW Natural

repellents are to MITESBEDDING
100% NATURAL and ORGANIC QUALITY
SLEEVE COTTON VELOUR
an Organic Cotton 4 Models Pillows Valini GREEN SLEEP
Choose one that suits you!
Green Sleep, Valini 2000

Green Sleep, Valini 4000




•

Green Sleeps bio-pillow
• Filling 100 % organic hevea form
• With single cover 100 % cotton KBA
• Filling and cover washable 30°
• Orthopedic travel pillow for firmer mattresses
• Perfect support for top side sleepers


•

Hypo allergen


•

Cover very absorbent


•

Shoulder free ergonomic measure 30 x 50 cm
Find Products Naturals Products
Real Organic Products without added chemical products
INFORMATION AND ADVICE
Monique Toubeix
Specialist and Advisor Natural Products
Mattresses and Pillows Organic Wool and Latex
GREEN SLEEP
Need information?
514-792-0281
or
Come meet
MATELAS BONHEUR
1860 boulevard Le Corbusier, Laval, QUEBEC
(450) 687-7880
She will be happy to answer your questions
For more information products are available exclusively
at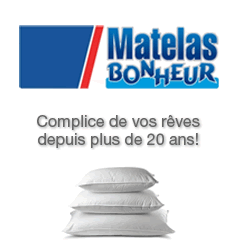 Laval –
Montréal- Québec
CANADA.